The Nagorno-Karabakh Conflict in the Modern Era and Future Prospects
April 8, 2021 @ 12:30 pm

-

2:00 pm

EDT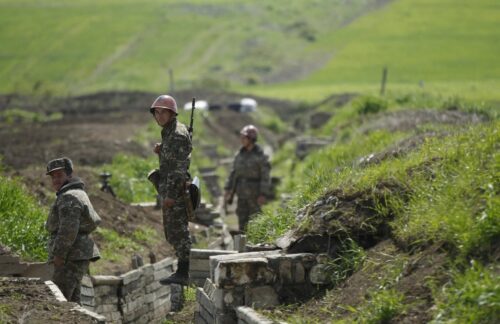 An NIF Zoom event discussing the Nagorno-Karabakh conflict during the modern era, focusing on human rights, competing narratives, and future relations between Armenia and Azerbaijan.
Speakers
Ahmad Obali, Gunaz TV
Yusuf Erim, TRT World
Hamdi Rifai, Council of United Syrians & Americans
Moderator
Khaled Saffuri, National Interest Foundation
About our Speakers: 
Ahmad Obali is the founder and Managing Director of Gunaz TV, a broadcasting station based in Chicago that reaches millions of people in Iran, promoting human rights, ethnic rights, and freedom of information. The TV station operates 24/7 in the Azerbaijani, Persian, Arabic, and Turkmen languages. He escaped from Iran in 1982 and immigrated to the United States in 1985. He worked with the UN special rapporteur on Iran from 1999 to 2003 and various human rights organizations before setting up his broadcasting station in late 2004 that continues to date.
Yusuf Erim is a security analyst and political commentator. He is the editor-at-large at Turkish public broadcaster TRT World. Yusuf lectures at universities, has written OpEds for several global publications, and regularly appears on many international news channels.
Hamdi Rifai is the Executive Director at the Council of United Syrians & Americans. Mr. Rifai is a government affairs specialist focused on foreign policy between the United States, Eurasia, and the Middle East. He has appeared frequently throughout the years as an expert analyst on international affairs, national security, and legal issues on Fox News, Al-Hurra, Al-Jazeera, the BBC, and TRT.
Disclaimer: please note that when registering for any of our events, all required fields must be properly filled out. We reserve the right to deny entry for those who fail to do so, i.e. inputting NA in the "organization" or "job title" section. NIF events are by email invitation only and are non-transferable.
Note: additional speakers may be announced later.