A First-Hand Account Into China's Genocide Against the Uyghurs
August 16, 2022 @ 12:00 pm

-

1:30 pm

EDT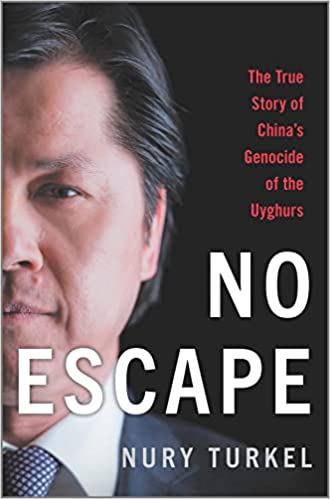 The National Interest Foundation invites you to attend a lunch discussion and book signing event with Nury Turkel regarding his powerful recent memoir No Escape: The True Story of China's Genocide of the Uyghurs. Mr. Turkel will discuss his personal story, China's egregious violations against the Uyghurs, and his work to address the humanitarian crisis.
Disclaimer: NIF events are by email invitation only and are non-transferable. Please note that when registering for any of our events, all required fields must be properly filled out. We reserve the right to deny entry for those who fail to do so, i.e. inputting "NA" in the "organization" or "job title" section.
Speaker
Nury Turkel, Senior Fellow, Hudson Institute
Moderator
Kelley Beaucar Vlahos, Senior Advisor and Editorial Director, Quincy Institute for Responsible Statecraft
About our Speaker: 
Nury Turkel is the first U.S.-educated Uyghur-American lawyer, foreign policy expert, and human rights advocate. He was born in a re-education camp at the height of China's tumultuous Cultural Revolution and spent the first several months of his life in detention with his mother. He came to the United States in 1995 as a student and was later granted asylum by the U.S. government. Since June 2022, Nury has served as the Chair of the U.S. Commission on International Religious Freedom, having been reappointed by Speaker of the House of Representatives Nancy Pelosi (D-CA) in May of 2022 for a two-year term. In September 2020, Turkel was named one of the TIME 100 Most Influential People in the World; and in May 2021, he was named on Fortune's List of the World's 50 Greatest Leaders. Turkel is a respected opinion leader and a foreign policy expert primarily focusing on diplomatic, economic, and national security issues involving China, Central Asia, and Turkey. He is a Senior Fellow at the Hudson Institute and a member of the Council on Foreign Relations. He also serves as the Chairman of the Board for the Uyghur Human Rights Project (UHRP), which he co-founded in 2003. Turkel has published policy-oriented commentaries and op-eds in publications such as Foreign Affairs, The Wall Street Journal, The New York Times, Time, Newsweek, Foreign Policy, USA Today, The Hill, The Independent, and The Diplomat. He has spoken at numerous policy forums, academic institutes, and human rights conferences, regarding the mass internment of Uyghurs and other Turkic Muslims in China. He has appeared on major media outlets, including CNN, BBC, Fox News, Al Jazeera, Australian ABC, Sky News, France 24, and TRT World. He has testified before Congress, including most recently before the Congressional-Executive Commission on China in October 2019, speaking about Uyghur internment camps, and advocating a legislative response to China's atrocities. Many of his recommendations have been incorporated into U.S. laws and pending bills relating to Uyghurs and China in Congress, including the Uyghur Human Rights Policy Act of 2020 (Public Law 116-145).
About our Moderator: 
Kelley Beaucar Vlahos comes to the Quincy Institute for Responsible Statecraft from The American Conservative (TAC), where for the last three years she served as the magazine's executive editor. Before joining TAC in 2017, Vlahos served as a contributing editor to the magazine, reporting and publishing regular articles on U.S. war policy, civil liberties, foreign policy, veterans, and Washington politics since 2007. She also organized the magazine's major annual foreign policy conference for the last three years. Prior to that, Vlahos was director of social media and a digital editor at WTOP News in Washington, D.C. from 2013 to 2017. She spent 15 years as an online political reporter for FOX News at the channel's Washington D.C. bureau, as well as Washington correspondent for Homeland Security Today magazine. She is on the board of PublicSquare.net, a non-profit media project promoting informed Left-Right debate. Her recent media appearances include C-SPAN's Washington Journal, Tucker Carlson Tonight, NPR's 1A, POTUS on Sirius XM, and Al Jazeera.  Before moving to the nation's capital, Vlahos earned her degree in Journalism-Mass Media at Central Connecticut State University and worked her way through local and regional newspapers in her home state of Connecticut, including The New Britain Herald and The Torrington Register Citizen. She is co-host of the Crashing the War Party podcast with Daniel Larison and Barbara Boland.
Note: additional speakers may be announced later.